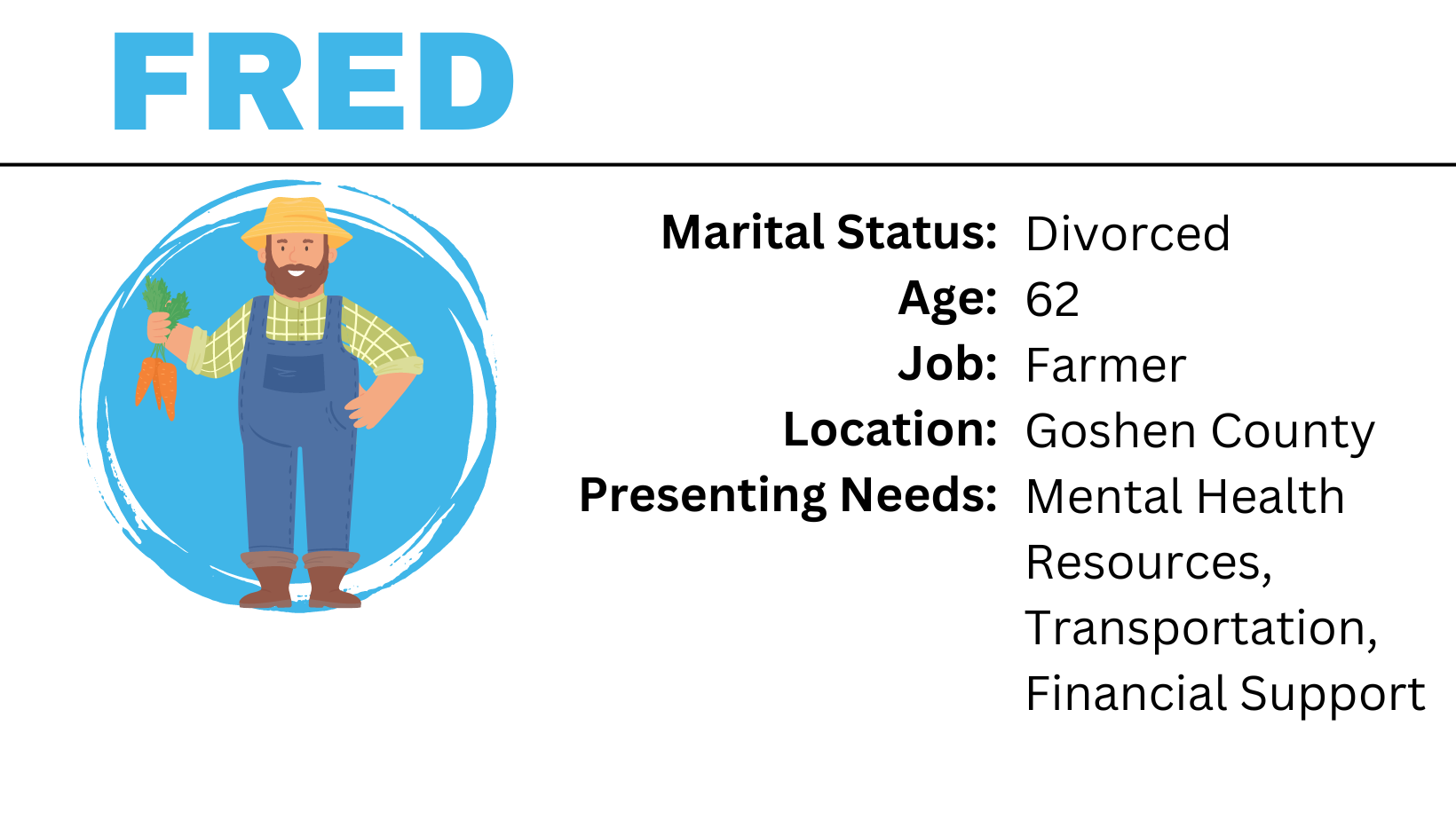 Who is Fred?
Fred comes from a long line of corn producers in a rural area of Goshen county. Farming makes for a pretty lonely life for Fred and he was starting to feel a little hopeless. While riding his tractor out in the field, he noticed a new billboard sign that said, "Need rural resources? We can help! Call 2-1-1." Figuring he didn't have much to loose, Fred decided to call Wyoming 211.
Connecting with Wyoming 211: Fred's Outreach
He was met with a friendly voice on the other end of the phone. Kim, a community resource specialist, took a brief intake from Fred and asked how she could help. Fred mentioned he had been divorced for about a year and was feeling lonely and a little depressed. Searching resources available in Goshen county, Kim referred Fred to the Goshen County Senior Friendship Center. The Friendship Center was a place Fred could go eat lunch for a suggested donation of $3, meet new senior friends from his community, and participate in classes like woodcarving and bingo. Fred's spirits lifted a little just at thought of sharing a meal with someone.
Fred's Quest for Rural Resources
In his conversation with Kim, Fred brought up how he had been struggling lately to make ends meet in the farming industry. He needed to explore other ways to make money off of his corn fields. Kim told him about the farmer's market put on by the University of Wyoming- Goshen County extension. He learned he could be a season vendor for only $25 and sell his corn from July through October. Fred thought this would provide the financial boost he needed.
Fred shared that he could really use someone to talk to that specifically understood the stress and struggles that farming has caused him. Kim was proud to tell Fred about the AgriStress helpline– one of Wyoming 211's partners. This helpline is answered by trained professionals who give specific help and understanding of the burdens that farmers and ranchers go through.
Fred's Journey with Wyoming 211
Making her follow up call a week later, Kim learned that Fred had played cards and lunched with a few new buddies at the Friendship Center. He signed up to vendor at the Farmer's market the following Saturday and was busy making signs for his booth. Fred finally felt heard after calling the AgriStress helpline. He was given a few breathing exercises to try out while on the tractor and this was bringing his anxiety levels down. Fred told Kim he was so glad he called Wyoming 211. He knew he had been connected to more than just resources, he had been connected to hope.