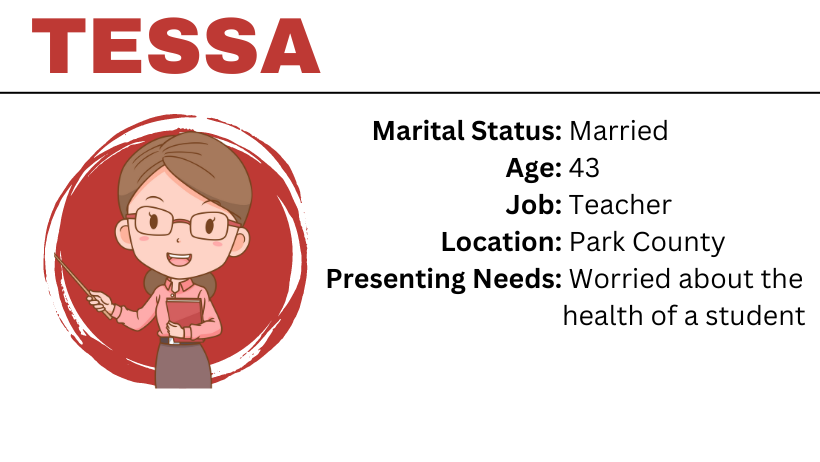 A Teacher's Impact
Tessa's Role – Teacher, Coach, and Mentor
Tessa teaches high school English in Park County. She is also a cross county coach and sponsor of the student council. She loves her work and is very dedicated to her students. Tessa has an approachability that her students can and do rely on.
Addressing Addiction and Struggles
At the start of the school year, Tessa noticed one of her 10th grade literature students was having trouble staying awake in class. While on hallway monitor duty, she heard other students taking about him and his excessive partying and vape usage. The next day, she decided to have a chat with him after class.
He told her that his parents were not very supportive of him and often leaving him home alone for sometimes days at a time. He told her that their lack of parental involvement gave him opportunity to drink their alcohol and "get away with a lot more than other students". Tessa requested that he tell his parents about his alcohol problem and he promptly told her "they wouldn't even care".
The Power of Conversation
Breaking Barriers – Tessa's Heart-to-Heart
Tessa knew she needed to step in and help her student to not only be successful in school, but also help him with his addiction. Tessa remembered a presentation made by a Wyoming 211 staff member at her school's teacher in-service day. She was hopeful that calling 2-1-1 would be a good place to start.
Tapping into Resources – Wyoming 211's Support Network
Tessa was greeted with a friendly voice on the other end of the line. Kim, a Wyoming 211 Community Resource Specialist, was eager to help Tessa come up with some information and referrals to accommodate her student's needs. Tessa first brought up the student's binge drinking issue. Kim told her about the plethora of resources and talking points at Healthy Park County to help facilitate a conversation with her student about this problem. She also informed her about the Ask11.org project, run by Healthy Park County, and told her it would be a useful tool to understand important questions that her students might be thinking about.
Tessa told Kim that her student had played basketball his freshman year and was interested in playing again this year. However, her student mentioned that he was in need of a sports physical and his parents were never around to pay for one. Kim was excited to advise Tessa about Northwest Health Care and the cost reduced sports physicals they provide.
Kim also let Tessa know that the Yellowstone Behavioral Health Center could provide a professional counseling approach that her student might need. She learned that all of their services are provided on a sliding fee scale and might be more affordable for her student. Tessa was feeling more hopeful that she now could help her student have a better school year.
Beyond the Classroom – Nurturing Bright Futures
A week later, Kim called Tessa to follow up on the referrals given and to see if she needed any more assistance for her student. Kim was thrilled to learn that Tessa had used the helpful talking points offered at Health Park County to discuss the real issues at hand with her student. Kim learned that Tessa told her student about the more cost effective counseling available at Yellowstone Behavioral Health Center. After a session with a licensed therapist, her student had decided that his binge drinking problem was standing in the way of the future he imagined for himself. He decided to stop drinking and to continue therapy. Tessa also informed her that the student had received a sports physical from Northwest Health Care and was cleared to play basketball in the winter.
A Lasting Impact
Tessa was so glad she called Wyoming 211. She knew that she was connected to more than just helpful resources for her student. She was connected with options that could provide him with hope for a better future.