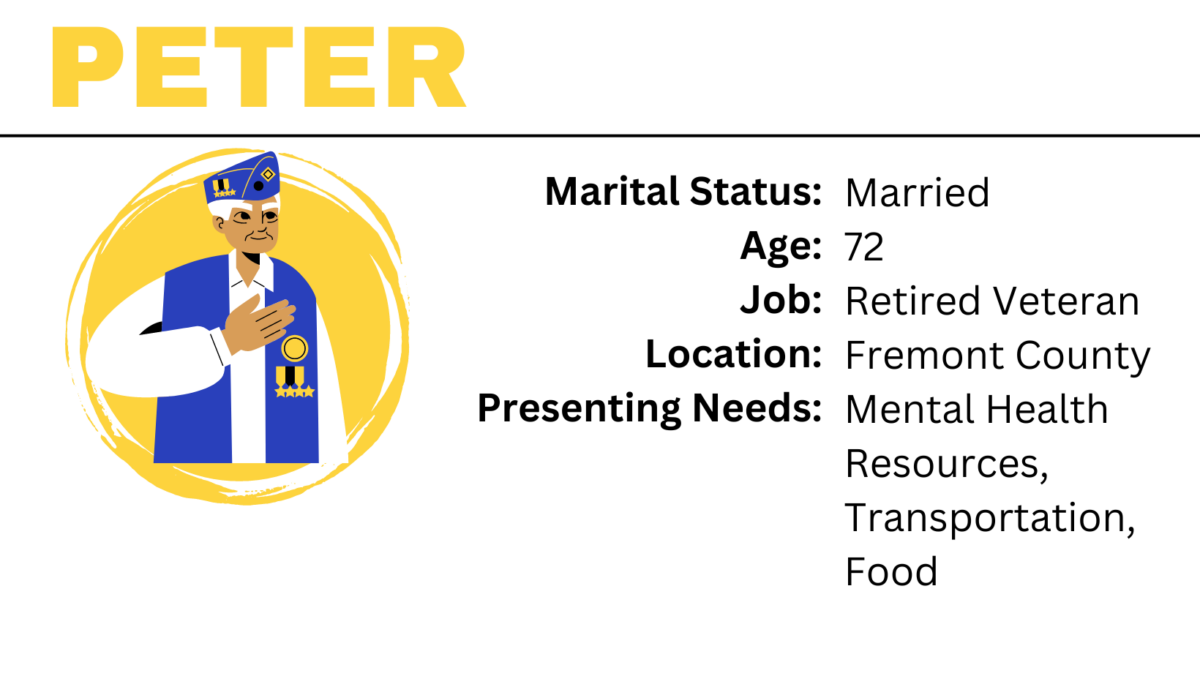 Peter is a proud Air Force veteran who was born and raised in Fremont County, WY. He and his wife, Agnes, live in the community of Lander. After serving his country and enjoying a job in maintenance, Peter decided to retire. While not working anymore is better for Peter's tired body, he and Agnes often struggle to make ends meet. They often go without food for several days and can't make it to their doctors appointments due to lack of transportation. After reading a poster about Wyoming 211 at the local post office, Peter decided that he just might be able to get the help he needs.
Peter picked up his phone and dialed 2-1-1. He was kindly greeted by Kim, a community resource specialist, and immediately felt comfortable sharing about his needs. Peter's first presenting need was the lack of food in his home for the rest of the month. He was worried that they would run out before his social security check came in. Utilizing Peter's zip code, Kim was able to find the Food Bank at Lander Care & Share, which was right down the street from his home. He learned, after registering at the Lander Care & Share Food Bank, he would be able to go home with food like bread, soda, crackers, lunch meats and much more on that very same day.
Peter mentioned that Agnes has a doctor's appointment at the end of the week, but does not have a reliable vehicle to get her there. Kim referred Peter to the Lander Senior Citizens Center. He learned for only $2 each way, the senior center would transport Agnes to and from her appointment. Kim provided Peter with the phone number, address and hours of operation for the center.
While on the phone with Peter, Kim noticed a sad tone in his voice. This prompted Kim to ask if there was anything else she could help Peter with. He reluctantly mentioned feeling down and emotional for most of the day. Kim asked if Peter would be interested in receiving information for mental health resources. Peter agreed that he would like that and Kim connected him to Fremont Counseling Service. He learned that costs for services are dependent upon household income and that no one is turned away for an inability to pay.
After a follow-up call, Kim learns just how helpful her referrals were. Through the connections made, Peter received food from the food bank and a ride for Agnes' doctors appointment. And, Kim was happy to hear that Peter was feeling better after a few counseling sessions with his new therapist. He was so glad he called 2-1-1! Peter knew he had been connected to more than resources. He had been connected to hope.